The Nook HD is a 7 inch tablet from Barnes & Noble. For me a tablet is the screen and that has to be gorgeous because for the most part I'll be reading on the tablet, whether its webpages, books, magazines or my email. Then I'd be watching movies or TV shows, some lightweight gaming to pass the time, some note-taking perhaps and maybe an occasional chat or Skype call. I tend to use my phone for calling, texting, Skyping etc. as its a much better tool for the job. But the phone screen is no good for reading, so thats where the tablet comes in.
The Nook HD is spot on for the job I have in mind for it. The screen on the Nook beats every competition at this price range and is way up there, 7 inch, IPS, 1440 x 900 pixels, 243 ppi1, 720p. Yeah baby. Its a glossy screen, if you don't like that you can very easily fix it with this excellent matt screen shield.
Otherwise the Nook HD spec is not earth shattering, but very capable. 315 grams, 11mm thick, 1.3GHz dual core processor, PowerVR SGX544 graphics (DirectX 9.0, OpenGL 2.1), 1GB RAM, WiFi 802.11b/g/n, microphone, stereo speakers and orientation sensor. Hey by the way, thats a pretty decent graphic chip in there, same as the one used in Apples iPhone 4. Ah capacity, Nook HD comes in 8GB or 16GB flavours, but here is the other standout feature, it supports microSD cards up to 32GB, wohoo! So if you like to watch movies, you could copy over a big collection on there.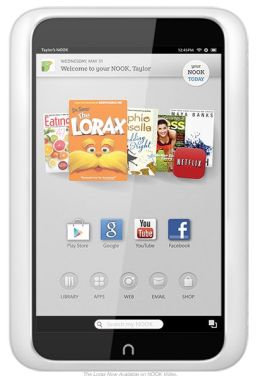 Okay, so it can't all be awesome, what are the downsides you ask? Well firstly there is no camera, no GPS sensor (though WiFi based location is available) and no ambient light sensor, which means you get to set the brightness manually and it is WiFi only, no 3G. Secondly the software on the tablet is a custom version of Android supplied by Barnes & Noble. It has access to the Google Play store, so you can install other apps, but its somewhat limited from the full Android experience you get from tablets running the latest (candy flavoured) android version.
But here is the gold miners trick, the presence of the microSD card slot and some clever hackers have found a way to replace the supplied software with a full featured Android version from Cyanogen. What is even better is that the Nook HD is listed as an officially supported device by the Cyanogen team, so this is good tested software, not some hacky software spinoff from someones basement. Cyanogens codename for this device is hummingbird. There is an easy to follow guide describing the hack, written by fellow hackers. You can even ask someone to do the software update for you for a small fee.
There are also ways of keeping the manufacturer supplied software intact on the tablet and running Cyanogens Android version entirely from the SD card. So you can choose to boot the tablet into the native software interface or insert the SD card and boot into Cyanogens full Android experience.
But you don't have to go down the hacking route. Depending on how you intend to use the tablet the supplied software with access to Google Play Store may suffice for your reading, viewing and gaming needs.
Make it even more awesome
Add a snazzy case with integrated keyboard and you can get pretty close to a very affordable portable notebook. Brilliant for taking notes on the go, replying to emails and basic document editing.
Add even more storage and other USB peripherals (mouse/keyboard etc) using a USB Female-Female adapter on the nook charging cable. Turn on USB host mode using this apk.