You are hereShop, Audio & Video
Shop, Audio & Video
---
OutbackCam portable video recorder from Swann is a complete security camera kit with in-built PIR motion sensor that can detect motion for up to 5 meters in front and a 55 degrees viewing angle. The PIR triggers the recording (minimum 5 second delay) at 640 x 480 pixels AVI format video or 2560 x 1920 (5MP) JPEG stills which are saved to the inserted SD card (upto 32GB). The camera uses a 1/2.5" CMOS image sensor for recording images and can record colour images during day and B&W at night. It is powered by 4 x AA batteries and housed in a tough water-resistant case in a making it fully portable. 4GB SD card included. This camera does not record audio. Buy Now.
Full Specification.
This is a fine pair of earphonesfrom Altec Lansing with excellent sound isolation properties for those who listen to music while on the move. The earphones serve as ear plugs effectively blocking out outside noise (passive noise reduction) and allow you to listen to music at lower volumes that you otherwise would in a noisy environment. Whats more they leak very little sound so the person sitting next to you is not disturbed by what you are listening to. Sound quality is really good and well balanced and the construction is sturdy with a strong chord. They come with a 2 year warranty. Overall a excellent purchase if you listen to music while on the move. Buy Now.
Winner of the What Hi-Fi awards in 2010 these on-ear beauties crafted from aluminium are sure to impress. Their sound can be described as clear, transparent and detailed and is surprisingly open for closed-back headphones. Easily driven from a mobile phone or Mp3 player they have the perfect length of tangle free chord and the drivers neatly fold away to tuck into a bag. They are also very good at blocking out outside noise and are perfect for enjoying during your daily commute in complete privacy without leaking sound. And they look gorgeous in both white and black. Put them on and you won't be able to take them off until you have listened to your entire collection at least once. Buy Now.
The MA-350 from Reid and Heath Acoustics are one of their kind. With a brushed aluminium body, tangle free cord and gold plated connections these are premium quality earphones with amazing sound. They feature 10mm mylar drivers with 16Hz - 22kHz frequency response and a 1.2m cable with a 3.5mm jack. Their bass response is subtle and articulated, not too overpowering, while mids and highs raise no complaints. For the price these are a steal. Buy Now.
This is a truly amazing high power mini HiFi system from Sony with integrated iPod/iPhone cradle. It features built-in equaliser, FM/AM radio tuner with 30 stations and dual external antenna, 2-way front speakers and double woofer technology to fill any room with rich blasting bass delivering 380W of total system power, Boombox type CD loader and 1 disc CD player, supports most popular audio file formats like Audio CD, MP3, AAC and WMA (DRM), 3.5mm input for easy connection with PC or other MP3 player and remote control. Buy Now.
The HD 202 from Sennheiser is a closed-back, on-ear headphone designed for everyday use, with the excellent audiophile sound quality of Sennheiser and 18Hz - 18KHz frequency response. These are lightweight, tough and modular and can be separated into three easy pieces for travel or storage. They have mid-sized, circular leatherette earpads that nearly surround the ears such that the earpads encircle the ear. Two year manufacturer warranty included in price. Buy Now.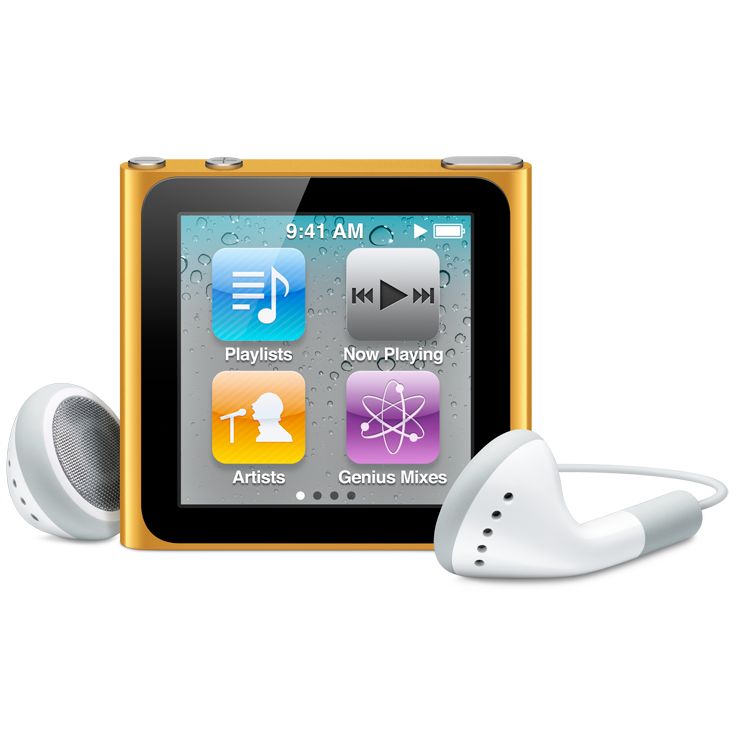 The nano may be small but it has been much improved and the result is this cute little gadget featuring a 1.5 inch 240x240 pixel multi touch display to browse your music and show off album art and you can always "Shake to Shuffle". It also has a built in FM tuner which shows the artist, song or programme you are listening to and allows you to pause a live broadcast and resume listening later. There is a built in pedometer and the battery lasts 24 hours. Buy Now.
This is fantastic value multi-format DVD player which upscales HDMI output to true 1080p to match your HD TV. Additional outputs include Component, CVBS, SCART, S-Video and digital optical sound, digital coaxial and 5.1 sound. It has inbuilt support for MPEG4, DivX, Xvid, WMA and MP3 audio/video codecs (.avi container) and SRT, SUB, TXT, SMI, SA and ASS subtitles. It can also read audio/video files off a USB drive or SD card. Finally it is multi-region and will play both region 1 (USA) and region 2 (EU) DVDs. Buy Now.
If you are looking for a reasonably priced MP3/MP4 player which supports lots of file formats this will fit the bill. It comes with a 2.4" full colour TFT display, built-in FM radio (earphone antenna), voice recorder and supports most popular file types including MP3, MP4, WMA, AAC, APE, OGG, RM/RMVB, AVI, XVid, DivX and JPG. PC connectivity is via USB 2.0 and the inbuilt 500mAh battery provides 9hrs audio and 3hrs video playback. The player weighs 54 grams. Buy Now.
These headphones feature a remarkably wide 15Hz - 25kHz frequency response, less than 0.2% distortion and 60ohm impedance combined with an open backed design to provide very well balanced and sweet sound with punchy tight base. The sound stage is large and roomy. They are foldable making them very portable and include a 3.5mm jack and 3.5/6.4mm jack adapter on a 1.2meter cord so you can use them with your favourite MP3 player or Hi-Fi system. Included in the price is Koss' No Questions Asked lifetime warranty. Buy Now.